VTI SCA3100
---
http://www.intl-sensor.com Time:2008/6/10 9:41:44 Count : 3795 Times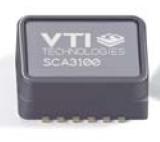 The new concept offers improved performance for automotive sensing

VTI Technologies has launched the next generation of accelerometers for use in automotive electronics. The SCA8X0/21X0/3100 is a comprehensive range of sensors intended for integration into a variety of electronic systems developed for vehicle safety and control. They have been developed to combine reliability and high performance sensing with excellent cost-effectiveness and accuracy.
The new family offers acceleration and inclination sensing as a complete platform, which can have the same pin-out in one-, two- and three-axis accelerometers. Measurements in X-, Y- and Z -direction as well as any combination of two and three directions are possible.
Application areas include Electronic Stability Control (ESC), Hill Start Assistant (HSA), Electronic Parking Brake EPB, Roll Over Detection and Electrically Controlled Suspension systems. Most of these applications require the ability to sense several directions at the same point.
Product family features
±2 g measurement range (to be extended to cover ±0.5g up to ±6.0g)

Zero point accuracy over temperature ±70mg to ±100mg

3.3V supply

Offset and sensitivity calibration

Temperature offset compensation

Same mechanical design and digital output

Lead-free Dual Flat Lead (DFL) package:

SPI, Digital Serial Peripheral Interface

Alternate Pulse-Width-Modulation (PWM) output in single axis components

Products qualified according to the AEC-Q100 standard
Availability
Limited number of samples available now

Automotive production volumes available starting in September 2007

Keyword:
±2 g measurement range (to be extended to cover ±0.5g up to ±6.0g)

Zero point accuracy over temperature ±70mg to ±100mg

3.3V supply

Offset and sensitivity calibration

Temperature offset compensation

Same mechanical design and digital output

Lead-free Dual Flat Lead (DFL) package:

INTL-SENSOR CopyRight
© Copyright By WWW.INTL-SENSOR.COM All Right
tel:86 010-67152280/67114885/67124125
E-mail:
pcb@intl-sensor.com