Proxitron 6905A
---
http://www.intl-sensor.com Time:2008/6/10 14:50:10 Count : 148 Times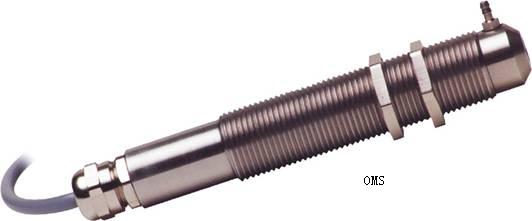 Type OMS 500.1U L
Art.-No. 6905A
Response temperature 100 - 500 °C
Spectral Range 8 - 14 μm
Output 10 mV/°C
Measuring failure 1,5 % min. +/-2,5
K
Response time t90% 0,3 sec.
Distance ratio 5:1
Detected surface at 0,3 m Ø 60 mm
Emissivity fixed 95 %
Load impedance 50 KOhm
Supply voltage stabilized 24 V DC +/- 25 %
Power consumption < 7 mA
Ambient temperature 0 to +70 °C
Protection class IP 65
Connection 1 m cable
(up to 100 °C)
Supply voltage display no
Housing material stainless steel
Accessories
(not included in the scope of supply)
Art.-No.
90° deflection mirror DAM 202 6914B
Cooling jacket DAM 201 up to 270 °C 6914A
Adjustable mounting bracket DAM 203 6914C
Keywords:
Type OMS 500.1U L
Art.-No. 6905A
Response temperature 100 - 500 °C
Spectral Range 8 - 14 μm
Output 10 mV/°C
Measuring failure 1,5 % min. +/-2,5
K
Response time t90% 0,3 sec.
Distance ratio 5:1
Detected surface at 0,3 m Ø 60 mm
Emissivity fixed 95 %
Load impedance 50 KOhm
Supply voltage stabilized 24 V DC +/- 25 %
Power consumption < 7 mA
Ambient temperature 0 to +70 °C
Protection class IP 65
Connection 1 m cable
(up to 100 °C)
Supply voltage display no
Housing material stainless steel
Accessories
(not included in the scope of supply)
Art.-No.
90° deflection mirror DAM 202 6914B
Cooling jacket DAM 201 up to 270 °C 6914A
Adjustable mounting bracket DAM 203 6914C
ProductsCompany
For two decades designers and operational technicians all over the world have relied on sensors of the trademarks Proxitron and Piros(Proxitron Infrarot Sensor). The individual solutions for operational automation cannot be found by simply looking into surveys of the delivery programme. Only by discussing the application in question with our experts time-tested components are found or adapted by means of modification.
Contact
Beijing Bron Science&Technology Commerce Co., Ltd.
Address:Room 512 of oriental Fortune,No.2 yard, North of the Anhua,Chongwen District,Beijing
Zip:100062
Tel:86 010-67114885/67124125/67152280
Fax:86 010-67124125
http://www.intl-sensor.com
E-mail:pcb@intl-sensor.com

INTL-SENSOR CopyRight
© Copyright By WWW.INTL-SENSOR.COM All Right
tel:86 010-67152280/67114885/67124125
E-mail:
pcb@intl-sensor.com